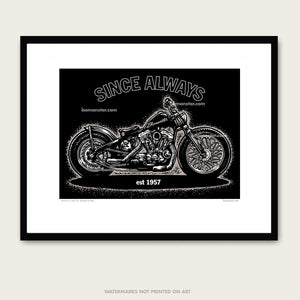 Need another badass Sportster for the wall?

This 8.5x11" litho print features a chopped Sportster featuring the year they were unleashed on the world - 1957.
Titled and signed by BOMONSTER
Numbered in sequence as they are signed
Prints can be framed three ways:
Drop into an existing 8.5x11" frame.
Trim ½" from sides and ¼" from top and bottom to fit into an existing 8x10 size frame.
Drop into existing 11x14" frame with 8x10" mat opening.
Frame not included
Shipped in a sturdy mailing tube